Rap Like Robbie Poetry Competition 2023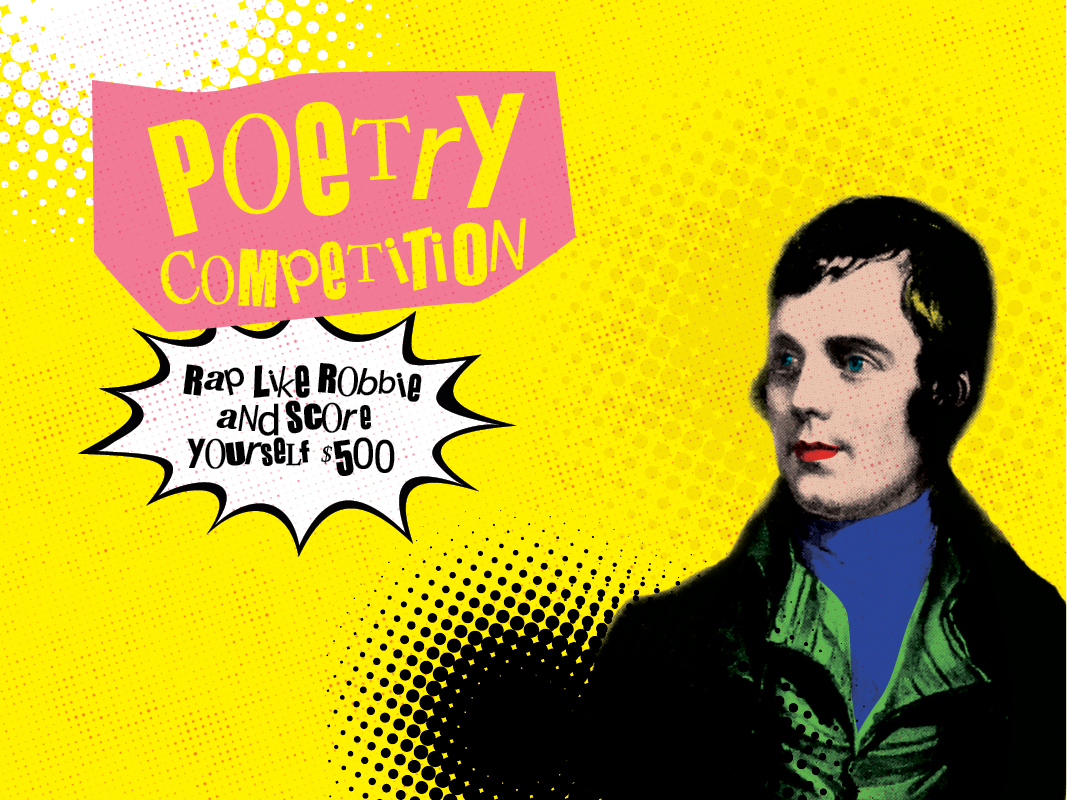 Why not write your own poem inspired by Robert Burns and score $500, sponsored by the Dunedin-Edinburgh Sister City Society! You can write about whatever you like, in English or you can have a go at writing in Scots. It can be any style – just read a bit of Burns' work and see where it takes you.
Resources to get you started: Some useful links for writing poetry
Please read the TERMS AND CONDITIONS of entry
HOW TO ENTER:
To enter you must be in years 9-11 at high school and a resident of Otago.
SUBMIT ONLINE: Register and submit your poem online
OR
POST: 2023 Robert Burns Poetry Competition
Dunedin Public Libraries
PO Box 5542
Moray Place
Dunedin 9054
Download entry form here.
Submit a copy of your poem with your entry form by Friday 1 December 2023.
Poems must be no longer than 500 words.
THE PRIZES ARE AS FOLLOWS:
1ST PRIZE:
Stan Forbes Medal
$500 generously sponsored by the Dunedin-Edinburgh Sister City Society
Poem published in the Otago Daily Times newspaper
2ND PRIZE: Certificate
3RD PRIZE: Certificate
All prize winners will be invited to attend a ceremony on 25th January 2024 (Robert Burns' birthday), at Dunedin City Library, and will be asked to read their poem on receipt of their prize. Prize winners may nominate someone else to read for them if they prefer.