Ephemera Collection
The McNab New Zealand Collection also has a little-known collection of ephemera dating from the 19th Century until today.
Our ephemera collection consists of transitory printed matter, including programmes, pamphlets, brochures, invitations, tickets, calling cards, greeting cards, postcards, and more. It is only catalogued at a rudimentary level but has many items of interest.
Theatre programmes make up the bulk of the collection, some of these dating back to the 1800s – many for theatres that no longer exist. There are many programmes for local productions but also for a large number of visiting musicians, singers, theatre and dance troupes.
Exhibitions of all sorts are also represented, both New Zealand and overseas.
Please note:
A significant proportion of the ephemera is yet to be catalogued, and so will not be find-able via the library catalogue.
If you're unable to find what you're looking for via our catalogue, you are most welcome to contact Heritage staff - we're always happy to help with access to our uncatalogued material.
For a taste of some of our theatre ephemera, you can browse this online exhibition, based on the 2016 Reed Gallery Exhibition, Flits across the stage.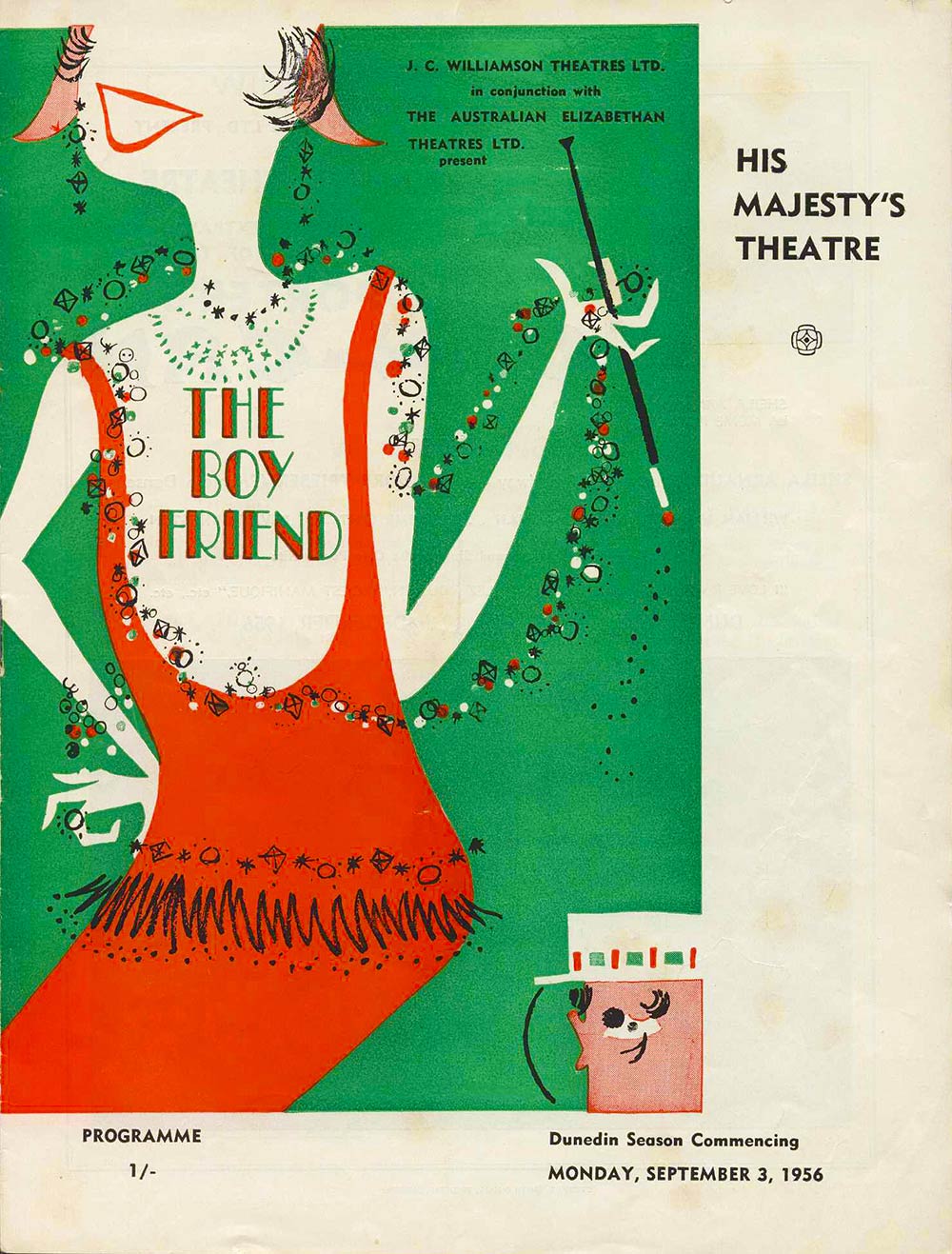 Below are some of the categories, organisations and events covered by our ephemera collection (not an exhaustive list – indicative only):
Art
Art exhibitions, local and from overseas 1930-
Art festivals and art schools
Cartoons, miscellaneous artists / David Low / Gordon Minhinnick / Sid Scales / Keith Waite
Dunedin Camera Club
Dunedin Photographic Society
Dunedin Public Art Gallery & Society
Otago Arts Society
Photography exhibitions
Dance
Ballet - in New Zealand / Royal New Zealand Ballet / from overseas /
Dance performances
Literature
City of Literature
Dunedin Public Library - booklists and bibliographies
Music
Brass bands and pipe bands, Dunedin
Chamber music, including Dunedin Chamber Music Society, Dunedin Concert Society
Classical and instrumental music – New Zealand / from overseas
Dunedin Orphans' Club
Orchestral music concerts, DSO, NZSO
Vocal Music – in Dunedin / in New Zealand / from overseas
Opera & Operatic
Light opera and musical comedy – New Zealand / from overseas
Dunedin Opera Company
Dunedin Operatic Society
Sport
IV British Commonwealth Paraplegic Games, Dunedin
X British Commonwealth Games, Christchurch, 1974
Sport - General
Theatre
British Drama League
Dunedin Burns Club & Dunedin Shakespeare Club
Theatres: Fortune Theatre 1974- / Globe Theatre/ His Majesty's Theatre / Playhouse Theatre / Regent Theatre
Theatre/Drama - Societies and Collectives : Dunedin Repertory Society 1934- / New Zealand Players; Really Authentic Gilbert and Sullivan / and others
Theatre (miscellaneous) - in Dunedin / in New Zealand / from overseas
Otago Theatre Trust
Other
Armed services, New Zealand, including Dunedin R.S.A., tattoos and military events
Burns and Garrison Halls
Business catalogues
Centennial celebrations
Christmas cards collection
Church music, services & events
Clubs and societies
Dunedin City Council and local government
Dunedin Orphans' Club
Education & Educational Courses
Election pamphlets – local government and central government
Festivals and competitions 1915-
Film
Public meetings, protests, demonstrations
Royal visits
School occasions
University graduation