Charles Dickens Collection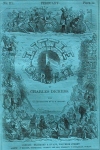 Representing the works of British novelist Charles Dickens (1812 – 1870).
This is the largest and best collection held by a public institution in the Southern Hemisphere.
Collected and single works are held in many editions.

Highlights include:
The only surviving manuscript fragment of the story Mrs Lirriper's Lodgings.
Several original letters by Dickens.
Six Dickens novels in their original monthly parts.
An extra-illustrated edition of John Forster's Life of Charles Dickens, expanded into 20 volumes by A. H. Reed though the inclusion of hundreds of letters and pieces of ephemera combined.
The collection also contains works of literary criticism, topographical interest, biography, illustrative matter, periodicals of Dickens's time including 'Household Words' and 'All the Year Round', modern periodicals including a complete run of 'The Dickensian', microfilms of Dickens' manuscripts and sound recordings of his works.
Charles Dickens Collection