Sir Walter Scott Collection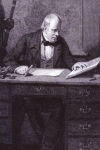 Sir Walter Scott (1771 – 1832) is one of Scotland's most prolific and beloved authors.
Throughout the 19th century, Scott wrote more than 20 novels and published a number of poems including The Lay of the Last Minstrel (1805) and The Lady of the Lake (1810).
The Dunedin Public Libraries benefited from the philanthropy of Esmond de Beer (1895 – 1990) when it received an almost complete set of first and early editions of the works of Sir Walter Scott in 1948. This was the start of the Sir Walter Scott collection.
Esmond de Beer was born in Dunedin on 15 September 1895, the son of Isidore Samuel de Beer, a director of Hallenstein Brothers, and grandson of Bendix Hallenstein, founder of the company.
In 1910 his father was appointed to run Hallenstein's office in London, and the family settled permanently in England.
De Beer's life was that of the scholar-collector. He was surrounded by books at home in Dunedin, and his uncle, Willi Fels, was a collector of books and artefacts.
He was educated at the school attached to Selwyn College and in 1914 studied at New College, Oxford.
His university days were interrupted by the outbreak of the First World War and de Beer enlisted and served in north-west India.
He earned a war degree from Oxford and completed an MA at the University of London in 1923.
In 1931, de Beer began work on editing the diary of 17th-century English writer and diarist John Evelyn for Clarendon Press.
His work was published in six volumes in 1955, and is still admired today as an exemplar of scholarly work.
The following year, de Beer began editing the correspondence of the philosopher John Locke.
The first two volumes were published in 1976, the eighth in 1989.
Along with his sisters Mary and Dora, de Beer was a major patron of Dunedin's cultural institutions.
Always considering Dunedin their home, the de Beers made generous donations to the University of Otago, Dunedin Public Art Gallery and Otago Museum.
After the deaths of his sisters in 1981 and 1982, de Beer dispersed his collections and moved into a London flat.
He died on 3 October 1990 at a nursing home in Stoke Hammond, Buckinghamshire, England.
The Sir Walter Scott Collection now numbers 170 items, the majority of which are first editions of such classic literary works as Ivanhoe (1820), Waverley (1814), and Rob Roy (1818).