Medieval and Renaissance Manuscripts Collection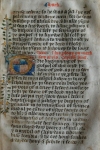 Dunedin Public Libraries hold the second largest collection of Medieval and Renaissance manuscripts in New Zealand.
The Collection currently numbers 11 bound manuscripts and more than 60 leaves and fragments, ranging in date from the 10th to the 16th century.
English and Western European manuscripts, primarily of a religious nature, comprise the majority of the Collection.
Highlights include:
A 15th-century copy of the Wycliffe translation of the Gospels, of which approximately 230 copies survive and only 31, including the Reed manuscript, are held outside the United Kingdom.
Leaves from a tenth-century Gospel Book, the oldest manuscript leaves in New Zealand.
The 15th-century Mantell Hours, believed to be the first medieval manuscript brought to New Zealand.
A 15th-century Dutch Book of Hours from the Boswell Collection at Auchinleck House, Scotland.
The Medieval and Renaissance Manuscripts Collection is restricted. Materials cannot be viewed during weekend or evening hours. Please contact us: library@dcc.govt.nz to make arrangements to view.
Images of selected items from the Collection can be viewed here.