Bibles, Biblical, Commentaries and Liturgy Collections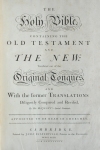 The Reed Bible Collection, containing nearly 1,300 volumes including many notable editions as well as facsimiles, is New Zealand's most important gathering of Bibles outside the Turnbull Library in Wellington.
The earliest item in the Collection is an original leaf from the Gutenberg Bible (ca. 1454), which was the first major book printed in Europe using movable type.
The Collection's primary focus is on the English Bible and its transmission from the 15th century to the present day. First, or near-contemporaneous, editions of many significant English translations are held, along with facsimile editions of unique or scarce Bibles.
Important editions include:
One volume of the 1472 Vulgate Bible printed by Peter Schoeffer.
A portion of the 1538 diglot New Testament, containing the English version of William Tyndale and the Latin of Erasmus.
A 1551 edition of the Coverdale Bible and one leaf from the 1535 editio princeps.
A Bassendyne Bible from 1579, the first Bible in English to be printed in Scotland.
First and second folio editions of the King James Version 1611 and 1613.
The five-volume Doves Bible (1903 – 1905).
For manuscript Bibles, please see Medieval and Renaissance Manuscripts.
Supporting the Bibles is a collection of scholarly commentaries and other secondary material focused primarily on the transmission and translation of the English Bible, numbering more than 650 volumes.
Items of significance held in this collection range from a volume of Foxe's Book of Martyrs (1583) and modern studies like David Norton's A Textual History of the King James Bible (2005).
The Reed Liturgy collection is primarily 17th to 20th century in scope. Books found here include Catholic Hours, the earliest of which was printed in 1544; Psalters, Missals, Breviaries, liturgical reference works, hymnbooks and numerous editions of the Book of Common Prayer starting with a 1637 edition.
Facsimiles of famous Books of Hours, such as the Playfair Hours, the Sobieski Hours and Le Belles Heures of Jean de France, Duc de Berry, are also held.
Bibles, Biblical, Commentaries and Liturgy Collection