Farjeon Family Collection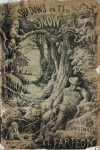 The Farjeon Family Collection holds more than 240 volumes of the works of Victorian novelist Benjamin Leopold Farjeon(1838 – 1903) and his talented family, of whom the best known is the collection's donor, children's writer Eleanor Farjeon (1881 – 1965).
Eleanor Farjeon was born on 13 February 1881 in London, England.
Her father, Benjamin Leopold Farjeon, was a journalist working at the Otago Daily Times (from 1861 to 1867) and author of numerous books including one of the first novels to be printed in New Zealand, Shadows in the Snow (1866).
Eleanor's eldest brother, Harry, was a teacher at the Royal Academy of Music and brothers Joe (Joseph Jefferson) and Herbert became writers.
Eleanor had no formal education, but her father's library of 8,000 books provided a fertile field for learning.
When Benjamin Farjeon died in 1903, leaving no inheritance, Eleanor began writing to earn a living. She was twenty-two at the time.
Among her earliest publications is a volume of poems called Pan Worship, published in 1908, and Nursery Rhymes of London Town from 1916.
Farjeon moved to Sussex the following year,1917. There she wrote one of her most notable books, Martin Pippin in the Apple-Orchard(1921), which established her reputation as an author.
The 1930s and 1940s saw numerous collaborative efforts with her brother Herbert: The Two Banquets, an operetta, was written in 1936 and published as a novelette in 1948; in 1944 the pair wrote a children's play called The Glass Slipper, which was published as a full-length book in 1955.
Eleanor's skill as an author truly blossomed in the 1950s with such finely crafted books as Silver-Sand and Snow (1951) and the collection of poems The Children's Bells (1957). She also wrote the song 'Morning has Broken' which Cat Stevens much later brought to popular attention.
Eleanor donated her family collection of books to the Dunedin Public Library in 1960, in memory of her father and to commemorate the centenary of the Otago Daily Times (1961) of which her father had been manager under Sir Julius Vogel (1835 – 1899).
Alongside works by Eleanor and her father are works by her brothers Harry (1878 – 1948), Joseph Jefferson (1883 – 1955),and Herbert (1887 – 1945), and her niece Annabel (1919 – 2004).
Some of Harry's music is included, along with manuscript and typescript items, and memorabilia.
Notable items include:
First editions of Benjamin Farjeon's Shadows on the Snow (ca. 1865) and Griff (1866), two of the earliest novels printed in New Zealand.
Numerous books inscribed and dedicated by Eleanor Farjeon.
A limited edition of The Works of William Shakespeare, edited by Herbert Farjeon and published by the Nonesuch Press (1929 – 1933).
Letters by members of the Farjeon family, photographs, and two pictograph letters by the artist Nicolas Chevalier (1828 – 1902).
This is one of the world's most substantial collections of Farjeon materials.
Some materials from the Farjeon Collection are restricted and cannot be viewed during weekend or evening hours.
Please contact the Rare Books Librarian to make arrangements.