Walt Whitman Collection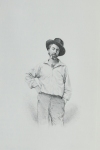 The American poet Walt Whitman (1819 – 1892) was one of the most important literary figures of the 19th century.
W. H. Trimble (1860 – 1927), appointed as the first temporary Hocken Librarian for a period of two years, was a keen Whitman scholar. He and his wife Annie collected a wide variety of Whitman material including books, pamphlets and photographs. The bulk of their collection was donated to the Dunedin Public Library by their daughter, Dorothy Stewart after Trimble's death in 1927.
W. H. Trimble was born in Lancashire,England, in 1860. In 1875 his family migrated to New Zealand where William's father, Robert established a sawmill near Inglewood, became involved in local politics and served as a Member of Parliament for Taranaki.
Trimble settled in St Leonards, Dunedin, and worked as an accountant and clerk before entering the Public Service as officer in charge of the Roads Department in 1908.
Trimble was honourably discharged from this position during one of the government's retrenchment policies. He then opened a bookshop in Dunedin.
In 1910 Trimble was appointed the first Hocken Librarian after Dr T. M. Hocken donated his collection of New Zealand materials to the City of Dunedin.
Trimble's scholarship was recorded as being' wide and systematic' and he produced the very first catalogue of the Hocken Collection in 1912.
A great scholar of the American poet Walt Whitman, Trimble built an internationally significant collection of books by and about the poet.
He frequently contributed articles on literary and historical subjects to magazines and newspapers in New Zealand and overseas.
He was a popular speaker, presenting many public lectures on diverse matters of literature, social concerns, theosophy, spirituality and, naturally, Whitman.
Trimble was also a keen cyclist and wrote several accounts of his experiences of cycling around Otago, which are held by the Heritage Collections.
The Walt Whitman Collection comprises more than 680 volumes, including numerous editions of Whitman's classic work Leaves of Grass, from the 1856 second edition to modern publications.
One of the most interesting items in the collection is the Concordance of Walt Whitman's Leaves of Grass, a typescript in two volumes, compiled by Trimble and his wife, and containing a total of 61,201 entries.
The Whitman Collection is the largest in Australasia and significant internationally.